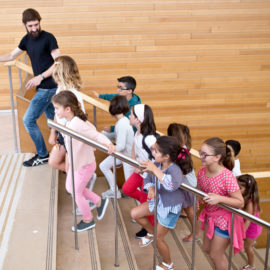 Kursaal Eszena, in close collaboration with the Euskadi Symphony Orchestra, includes this activity in its programme planning with the aim of bringing classical music live to school boys and girls in our environment. Several sessions designed exclusively for this initiative will turn the Kursaal Auditorium into a particular teaching classroom for both elementary and secondary education.
Euskadi Symphony Orchestra
Lucía Marín, conductor
Works by Grieg and Sibelius
Lucía Marin, conducting the Basque Symphony Orchestra in full, with dance and a narrator, will carry the imagination of school boys and girls to northern Europe to discover through the music of two of its most relevant composers, Grieg and Sibelius, the natural landscapes and culture of the Scandinavian peninsula. A concert full of different colours.
In Basque language (for young people from 10 years of age)
Production of the String Ensemble of Euskadi Symphony Orchestra